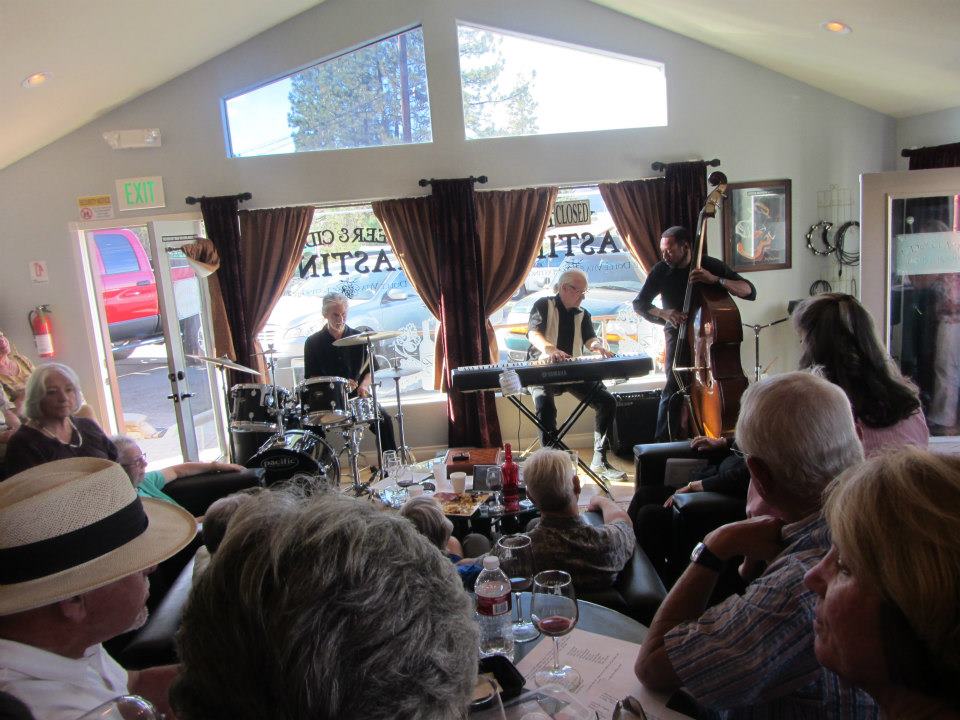 Click"

The Jazz Trio

                                                           By  Nancy Walker                                               

The Real Jazz Trio", Mike Cross' new jazz group,

debuted recently at the beautiful Le Dolce Vita, in the

Village. The house was packed, the vibe was exciting,

and the music was pure jazz and pure bliss for those of

us who really dig jazz.

The venue, Le Dolce Vita, is a lovely wine tasting

room at 40645 Village Drive. The lighting is subdued

and sophisticated, as well as the decor. On an early

Sunday evening I don't think the proprietors anticipated

the onslaught of Mike Cross fans that showed up to hear

his new jazz trio. Mike, on piano, was accompanied by

well-known local drummer, Steve Boggio. Joining them

on stand-up bass was Mark Cade, hailing from Lake

Arrowhead via Hollywood, where Mark is an actor and

videographer. (Find him on Facebook). Steve and Mike

had played together most recently with the Catz in the

Hatz, and Mark rounded out the trio most ably.

                              The Real Jazz Trio at Le Dolce Vita

That evening, Mike played a few original

compositions from his new CD, "Gemini's Dream". His

sidemen did a great job of accompanying him, and the

improvisations were as always a delight to experience.

The true beauty of jazz was on display, with unique,

exciting solo performances. Steve and Mark rose to the

occasion as their solos were top-notch, and gave the fans

the opportunity of witnessing jazz in the moment, where

anything goes, and true musicianship is highlighted.

The group also played some other jazz standards, to the

pure delight of the crowd who cheered them on after

every selection!